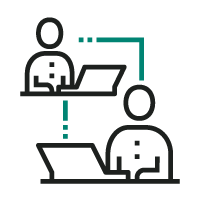 The fib secretariat is headed by the secretary general and is located in Lausanne, Switzerland on the campus of the Ecole polytechnique fédérale de Lausanne (EPFL).
The secretary general provides overall guidance on the daily operations of the association and ensures coordination within the association and with partner associations.
The secretariat provides all the administrative support to the association, including membership, bulletin sales, awards and communications to carry out the directives of the presidium.
If you need information from the secretariat, do not hesistate to contact us.
Secretary General
Dr David Fernández-Ordóñez
Account and Administration Specialist
Ms. Marie Laure Scherler
Communications and Events Specialist
Web Development and Publications Specialist
Ms. Corinne Bottollier Dépois

fib Secretary General


fib Account & Administration Specialist


fib Communications & Events Specialist


fib Web Development & Publications Specialist